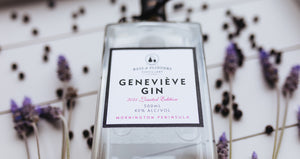 Geneviève Gin
How do you like your gin? Over ice or a spritz on your wrist?

Inspired by the natural, fragrant botanicals found in some of the world's most iconic perfumes, Geneviève Gin is the ultimate expression of a floral gin. Twist the lid and you unlock an unlimited array of delicate aromas common to both gin and perfume.

With a subtle nod to the noble botanical that signifies gin, Geneviève is a name derived from 'genièvre', the French word for Juniper and is an artfully crafted composition of lifted, fragrant aromas and extraordinary floral sensations. Just like a great perfume Geneviève gin captivates the senses with complexity and intrigue - and every woman needs a signature fragrance.

Our sense of smell is one of the most evocative senses humans possess. The olfactory system can detect millions upon millions of scents, some of which can be extremely distinctive and can bring back memories of a particular time place or moment. Fragrances can convey a vast array of emotions and feelings, from recalling a long-forgotten event or experience to forming an attraction between two people. Scents and aromas have been known to promote relaxation, reduce stress, improve alertness and energy and potentially relieve pain. Fragrances are added to many products as it makes us feel good.
Our love for the art of perfumery runs deep, a long and winding journey from ancient apothecaries and cultures to modern, luxurious fragrances. Back in the 18th century, the lines between food and perfume were blurred and the first botanical eaux de cologne was both a popular fragrance and drink. Lavender was cultivated as a medicinal herb and was in such great demand for its healing qualities that distillers would travel from market to market with copper stills to distil these glorious scented blooms known in some circles as 'blue gold.'
Today many similarities between gin and perfume still exist. In the creation of Geneviève gin, Bass & Flinders draws on parallels of production through using similar processes of vapour infusion by distillation, as well as a vast selection of botanicals sourced from local growers, to create an artistic expression of the perfect blend. Botanicals such as vanilla, lavender, rose and musk are classic perfume fragrances which also happen to make a beautifully aromatic gin. Orris root and angelica are used by perfumers as a 'fixative' ingredient which prolongs retention of the fragrance on skin and contributes earthy, sweet scents to a perfume. Similarly, in gin these botanicals add texture and depth, and prolong taste and aromas right up to the last sip.
The new limited edition of Geneviève gin celebrates these natural botanicals that abound in the French fields of Provence, while capturing the perfumed essence of our own local, native Australian flora. With such close proximity to the sea, both Provence and the Mornington Peninsula share a similarly Maritime environment. In our home here in Dromana surrounded by oceans, the moderate temperatures, cooling sea breezes and extended hours of sunshine nurture the roses, lavender and other flowers that are the heart notes of this highly perfumed gin.

With a similar climate to ours, the unique fragrances of the Provencal coast are a wonderful source of inspiration. "We wanted to produce a gin inspired by the world's finest perfumes, that was not only delicious but also powerfully evocative and able to take you on a sensory journey" explains Holly Klintworth, Head Distiller.
Made with handpicked Mornington Peninsula rose petals, fresh lavender and elderflower, the delightful undertones of musk add a subtle sweetness to balance and complement the drier juniper notes. Mandarin adds a freshness
whilst vanilla and base notes of orris root and native sandalwood nut add a smooth texture to this highly aromatic gin.
The specially selected Victorian grapes used for this gin are double distilled into a bright and fruity eau de vie or grape-based spirit, in small batches, using an Alembic Pot Still. Bass & Flinders is an artisanal, Mornington Peninsula based distillery known for its vine-to-bottle production methods, which celebrate the flavour and viscosity provided by the grapes to complement botanicals used across our gin range and whose brand promise is reflected in the quality of our gins.
Inspired by the natural botanicals that abound in the fields of Provence – the home and heart of French perfume, and celebrating the essence of our own local flora, Geneviève is the quintessential floral gin. A fresh and feminine style, on a par with long lasting, highly perfumed first-class fragrances, Geneviève Gin is a reflection of the sophisticated and modern woman who appreciates refined elegance.
A strictly limited release of only 200 bottles.