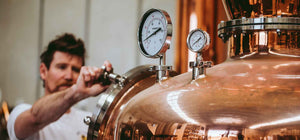 OUR APPROACH TO DISTILLING
ATTENTION TO DETAIL
To achieve a world-class spirit takes patience. It requires creativity and attention to detail. At Bass and Flinders Distillery we are extremely proud of our unique approach to producing quality, hand crafted, premium Australian spirits.
Our attention to detail means we choose to make our own grape based eau de vie spirit (French for 'Water of Life') which forms the basis for our entire product range. This means that rather than source neutral ethanol externally as the base spirit for this product, we choose to go the extra mile and distil our own premium grape-based spirit from scratch, in-house. Our spirits are crafted right here at our Distillery in Dromana, located on the beautiful Mornington Peninsula.


unique distilling process
Méthode Eau de Vie
Our process starts in the Victorian vineyards. We believe quality starts with the grape, so all of our spirits - from gin and brandy through to liqueurs - have been distilled from wine sourced from a single Victorian vineyard. This allows us to work closely with our winemaker to maintain consistency in acidity, sugar levels and ripeness of fruit in order to control the entire production process from vine to bottle - this is our definition of craft and quality.
Our batch-distilled eau de vie spirit, showcases the rich, ripe aromas expressive of the terroir where the grapes were grown and wine is sourced from, creating additional layers of flavour, texture and viscosity to all of our spirits, including our gins. This technique unique to Bass & Flinders Distillery products we refer to as our Méthode Eau de Vie.
MODERN AUSTRALIAN INNOVATION
TRADITIONAL EUROPEAN INSPIRATION
In pursuit of these unique, contemporary flavours, and inspired by European production methods for some of the world's finest brandies, we make our eau de vie using a traditional Charentais double distillation method using a gas-fired, copper Alembic pot still. It's a labour of love requiring true craftsmanship. We believe this small-batch process allows the finest aromas, individual characteristics and fruit flavours to reveal themselves.
This base spirit handcrafted from scratch using our Méthode Eau de Vie distillation process is the lifeline and foundation for every product we produce and delivers a smoother, fuller richer base. This technique, unique to Bass & Flinders Distillery is our definition of quality.
NATIVE BOTANICALS
DISTINCTLY AUSTRALIAN
Our philosophy is to use nothing artificial and to produce small volumes of high-quality spirits. Our distillery is making over 3000 unique gins each year with the help of the many gin enthusiasts attending our weekly Gin Masterclasses, and we're constantly exploring thousands of native botanicals found across our vast Australian outback to create bright, fresh spirits. We are passionate about creating distinctive gins, brandies and liqueurs and work closely with local growers to source essential, seasonal ingredients such as locally harvested cherries, truffles and vine leaves for some of our most-loved gins.
SOURCING LOCAL
HOME & HERITAGE
Have you ever tried Mulla Mulla? Sampled the spices of cinnamon myrtle or enjoyed the smooth texture derived from sandalwood nuts? Alongside other traditional gin botanicals, unique ingredients such as native strawberry gum, purple vetch and locally foraged kelp, coastal saltbush, samphire and so many more, are carefully chosen to reflect the flavours of our home and heritage.
And let's not forget the most curious ingredient of all, pheromones of Australian ants! Hand-collected at the sustainable Wooleen station in central Western Australia and resulting in our Angry Ant gin, with a flavour that expresses Australia's rich bio-diverse landscapes.