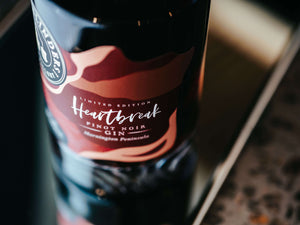 Bass & flinders Distillery handcrafted gin
2023 HEARTBREAK PINOT NOIR GIN LIMITED RELEASE
Heartbreak Pinot Noir Gin
Those devoted to Pinot Noir and those with, dare we say it, borderline obsession for this
enigmatic variety know of the Heartbreak.
Elegant and sleek, pinot noir is a femme fatale, climatically grown best on the fringes of viable grape-growing terroir. Growers face constant uphill battles every season, grappling with the fickle nature of this grape. Too much sun or not enough heat, extremely sensitive to fluctuations in temperature, soil and the site - vignerons are forever racing the change of seasons to achieve optimum ripeness before the leaves fall off or worse all is lost to bunch rot. Yields are often kept low in the name of quality.
But that's only half the story. Once in the winery, pinot noir is the most honest of all wines. Great pinot noirs are achieved by a lightness of touch and by taking great care. Finesse and grace are its strengths, leaving zero tolerance for mistakes, allowing them to be laid bare for all to see. With a longstanding reputation for reflecting the conditions where it is grown, having a glass of pinot is like examining the region, the terroir, the grower and the maker all at once. Only those who truly understand are able to consistently produce excellence. But even the best can be left pulling at their hair or shouting their joy one moment to the next while remaining blindly devoted. This is why Pinot Noir is known as the Heartbreak grape.
For lovers of pinot noir and gin alike, with our passion for creating unique gins with a distinct origin and expression of local terroir, Bass & Flinders have naturally progressed from producing grape-based spirits to fortifying Mornington Peninsula's premier grape variety Pinot Noir, creating our Heartbreak Gin.
Post destemming our pinot noir, we cold soaked the must allowing a wild ferment to slowly strike,
increasing the 'pinosity' of flavour - an enthralling combination of fragrance, wildness, softness, elegance, quiet complexity, delicious drinkability and seductive mystery. The small parcel of fruit was then hand pressed and fortified with juniper spirit, ceasing fermentation without the use of preservatives, to create our limited
Heartbreak Pinot Noir Gin release.
Classic Gin botanicals such as juniper, coriander, pepperberry, angelica and calamus root form the foundation to ground our Pinot Noir ferment in the Gin World, while rosemary and sage are used as the perfect herbal accompaniment to bridge the gap between pinot noir and fine dining. French oak, cocoa nibs and strawberry gum round out the palate and accentuate the bright strawberry and raspberry notes affiliated with pinot noir's around the globe, as well as violet and lavender notes that reflects the Tuerong Plains where our parcel of fruit was grown and harvested.
Heartbreak Gin is the deconstruction of and re-imagining of what Pinot Noir can be. Pushing both Pinot Noir and Gin outside their individual spheres creating a new space where the culmination is greater than the individual components, completing the love triangle between Oenology, Gastronomy and Mixology.

Heartbreak Gin 2023 Limited Release is bright ruby red. Complex and perfumed with notes of sweet red fruit, spice and floral highlights. Sweet spice sweeps through the palate opening up into bright, fresh pinot noir fruits finishing pleasantly textural and savoury with juniper, herbal and oak nuances. The 2023 Pinot Noir fruit harvest shows lifted red and pink fruit characters of strawberry, rosehip and raspberries which are enriched and enlivened by cacao, oak, lavendar and sage for a more fruity, floral and fresh take on the 2023 harvest.
Bass & Flinders Heartbreak Gin - a modern Australian gin that exudes everything you'd expect from our local premium Pinot Noir producers plus more. A true Spirit of the Mornington Peninsula.
This gin was handcrafted from scratch using our 'Méthode Eau de Vie' - the art of distilling wine into spirit - delivering a smoother, fuller, richer flavour for your drinking pleasure. 
Serving Suggestion: 
Enjoy neat over ice as an aperitif.
Garnish with scorched orange rind, raspberries or rose & sage. Serve in cocktails like our Lovers Revenge, a Negroni Noir or in a Heartbreaker G&T with Mediterranean Tonic.
Pair with traditional pinot noir food dishes such as butterflied lamb or crispy skin duck breast.